A plea for nonviolence expertise gets a quick and competent response
Laura Harvey, Certified Trainer in Nonviolent Communication (NVC) shares.
It all began with a phone call from an organisation known as Extinction Rebellion, asking our NVC community's help.
Extinction Rebellion (1) is part of the Rising Up social change movement and believe that it is "not only our right, but our moral duty to bypass the government's inaction and flagrant dereliction of duty, and to rebel to defend life itself."
Nonviolence is one of the Extinction Rebellions' core principles(2), so it was a natural step for them to request support from NVC practitioners for their first demonstration.
They planned to organise large-scale sit-ins across London to draw attention to the urgency with which we must take action to avert catastrophic climate change.
The question for our NVC community was simple: could we field skilled people to the ten sites where open direct action was planned?
Fast forward a week, and fifteen NVC practitioners, accompanied by a number of friends, formed five de-escalation teams. Our intention was to act in the service of everyone who found themselves on one of the bridges across the Thames, as thousands of protesters took part in one of the largest acts of "respectful disruption" in the UK for years.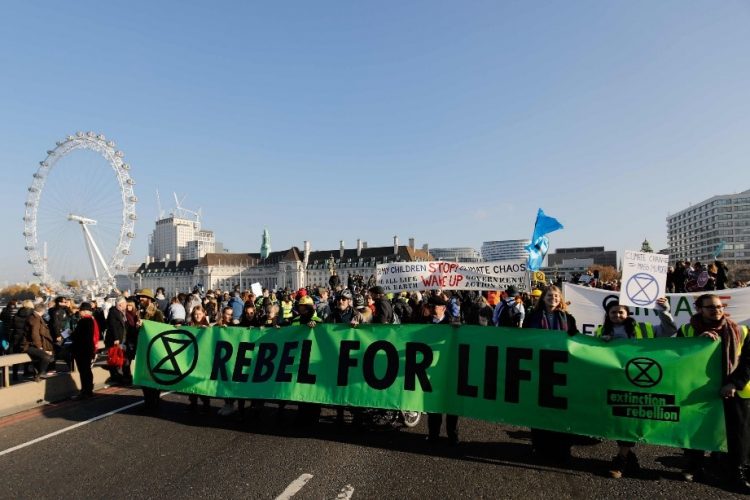 Five of the capital's best-known bridges were closed to traffic for around three hours to draw attention to the urgent response now needed to mitigate "climate catastrophe". Meanwhile, the Met Police and police liaison teams from the relevant boroughs worked to keep everybody safe. Day-long protests culminated in an interfaith ceremony outside Westminster Abbey. Coordinated action took place at sites around the UK and globally.
NVC "de-escalation" team input
Our role was to be a witnessing, calm and, where necessary, mediating presence at the intersection points at either end of each bridge; where protestors met the police-line, police met motorists being diverted, and legal observers interacted with arrestees and arresting officers. We were also asked to be a 'Go-To' for conflict resolution, to be called on as the first response if needed.
The mass arrest of Extinction Rebellion protestors is a strategy for 'respectful disruption'
Sarri Bater (an NVC practitioner, with twenty years' experience of living and working in countries experiencing serious conflict), offered some wisdom on the realities of such highly charged events,
"In my experience, engaging with these kinds of activities means there are no neatly packaged moments where it is clear
a) what' the problem' is,
b) what the best response/solution is, or
c) what outcome will occur.
This is a territory of contradictions, paradoxes, messiness, and nonlinearity – life!
Days [like this] will not call for NVC process as a tool…. Rather, it simply calls for our most sound NVC consciousness…. … and for a pre-preparing and ongoing-preparing of ourselves that goes so much more deeply than our thinking, analysing, solving mind. It requires us to be in undefended heart mode, with trust in our deeper sense of what is happening in any given moment, beyond the words and behaviours we are witnessing."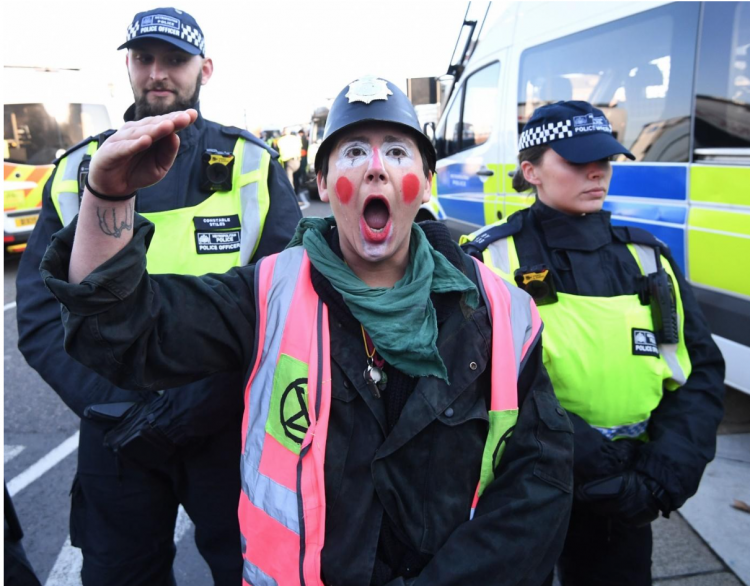 As the day progressed we each alternated between working independently and then debriefing with a peer, always seeking awareness of how we held our power in each moment. Where were we consciously or unconsciously putting it? Where was it needed? Were our own internal power struggles hindering our ability to connect with others?
In our de-escalation team preparation meetings and during the gathering and while walking to our different bridges we were encouraged to be with the awareness that if at any time, we were without sufficient energetic power in our NVC way of being, we would struggle to resonate or, to meet the power of the other energies we would be amidst. And, if we came with our own versions of power play, we would create more power struggle.
Offering insight from twenty-five years of living in and working with conflict situations, Sarri encouraged us to bring the unity of our "interconnectedness (rather than individuals together in a shared moment, figuring it out). If we were hoping for or forcing separate 'I's' together, they wouldn't stick, they wouldn't fuse".
Many of us also drew on the Bystander Intervention work Ceri Buckmaster and Leonie Smith, amongst others, have been sharing within our network.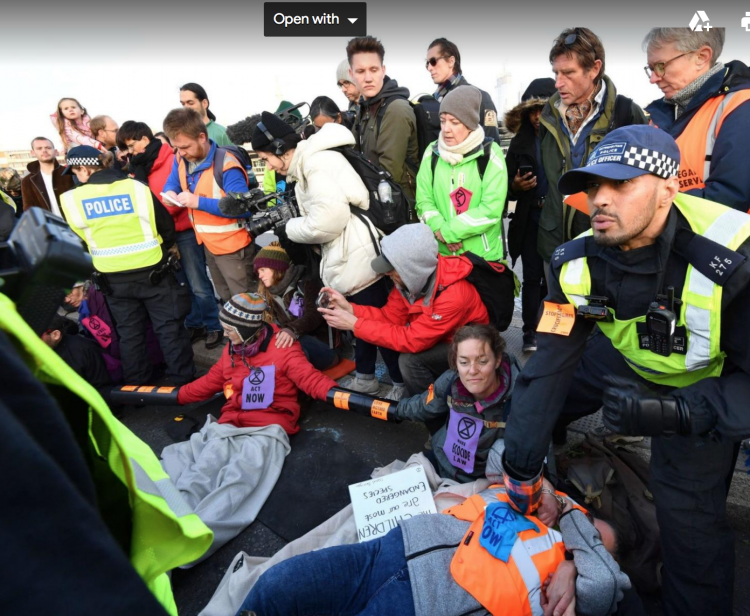 NVC practitioners from the teams of seventeen (17/11/19 action) and of five (24/11/19 action) made a series of personal & collective responses that they were told, by those who experienced them made a difference to police, protestors, arrestees and passers-by. "Thank you for being here," was the frequent feedback from individuals on Lambeth Bridge.
Others asked us to deliver messages on their behalf within or between interested parties. When we explained we weren't here to take that role, (as it would muddy our neutrality and commitment to caring for all). We noticed this response was often different to what they'd expected and took a moment to be absorbed. Over the course of three hours of action though, parties from both the police teams and the protest movement saw us hold this line whenever we received requests from the "other" actors. Carolyn Davies and I saw the accumulative effect of this consistency and noticed it creating clarity and starting to build trust. Our role was respected and often welcomed.
After the first, somewhat nerve-wracking walk through police lines, wearing our white sashes, individual officers began to recognise us and gain a sense of our role.
This meant that later in the afternoon, when the arrests began, there was already a level of trust building, and a sense that we weren't there, as the legal observers were, to ensure due process was followed, or to "side" with the arrestees as "right" or the police as "wrong." On several occasions, as arresting officers began their long march with arrestees from the centre of the bridge to the police vans waiting at the far end of the Lambeth Bridge, I was able to walk alongside them, with a different energy to the legal observers (who focused on their job) and quietly say, "We're here for you too…" Sometimes this was received non-verbally with warmth, surprise and obvious gratitude. whereas, other times the concentration and intensity of the officers in ensuring due process was followed safely meant they could barely hear another voice; there was already so much to hold and be aware of.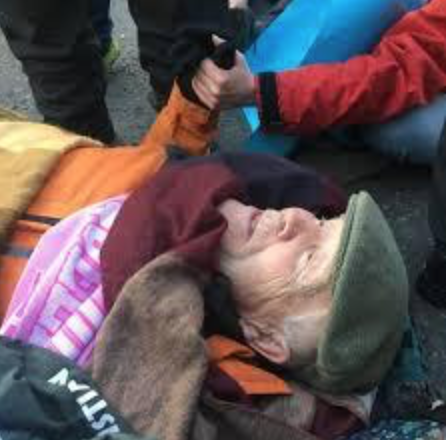 Reflecting on the week's build-up, the determination of the activists involved, and our own learning, NVC practitioners who were there commented after the event, "It feels like the beginning of something…"
Helpfully, we've seen a burst of intensified learning, which is already being documented for our community. I have found it accessible and easy to follow. Our engagement with this learning and feedback has the potential to be a vital harvesting space for NVC in our changing world.
Perhaps especially, in this case, there is a need for grief work as an essential part of any journey towards a different future. There are also strands, images and experiences of hope and solidarity. A measured celebration of the care taken to activate our own and others "we" function, in place of the tired chants of "them and us".
Several of us witnessed this in unforced conversations with police, and police liaison teams. Some imagined the impact of a climate catastrophe on their own families, and indeed, on the likely volatile scenario in which they would still be asked to contribute to public order and safety.
I want to acknowledge here, as a practitioner who benefitted from the advocacy, organisation and planning time gifted by our network, that the connecting interactions we experienced were enabled by six days of skilled, impromptu and voluntary coordination by trainers, friends and community members based across the UK.
Leadership, graft and encouragement emerged from England, Wales and Scotland-based NVC practitioners in turn, and people stepped into a supportive "leadership relay" as capacity and energy levels moved throughout the week.
Respect and thanks to Emma Quayle, Paul Kahawatte and Gayano Shaw, who held the bulk of pre-action intention and logistics this time.
Notes
(1) Extinction Rebellion bills itself as a group of "concerned citizens" focused on the environment. It gained national prominence in October, when close to 100 high-profile figures from across the United Kingdom published an open letter of support in The Guardian, stating that it is "not only our right, but our moral duty to bypass the government's inaction and flagrant dereliction of duty, and to rebel to defend life itself." Now, Extinction
(2) For more on the mass movements led by Ghandi and Martin Luther King, Ghandi, as well as less widely known actions see the booklet Active Nonviolence Across the World (Richard Deats, 2010), and the work of Erica Chenoweth and Gene Sharp.
DISCLAIMER NOTE: The Nonviolent Communication network in the UK is not affiliated with Extinction Rebellion or Rising Up in any way.
Extinction Rebellion highlights scientific data (IPCC) that shows how the enormity of climate change has been ignored by governments and that ecological catastrophe, and social collapse, is possible within a generation.
One of the protest organisers, Dr Gail Bradbrook, said: "The UN has given us until 2020 to change the course of humanity. If that doesn't happen human extinction in my children's lifetime is a possibility."
The blockages were "not a step we take lightly but if things continue as is, we face an extinction greater than the one that killed the dinosaurs… We represent a huge number of concerned citizens – scientists, academics, politicians, teachers, lawyers, students, children, parents, and grandparents," said organiser Tiana Jacout
Roger Hallam, a member of the strategy group, said he hoped the campaign of "respectful disruption" would change the debate around climate breakdown and signal to those in power that the present course of action will lead to disaster.
"It feels like we are tapping into something very powerful in terms of the frustration and urgency many people are feeling as the evidence mounts of the scale of the climate emergency we are facing," said Hallam, an academic at King's College who specialises in social change and protest.
Interviewed in The Guardian he added, "The planet is in ecological crisis – we are in the midst of the sixth mass extinction event this planet has experienced. Children alive today in the UK will face the terrible consequences of inaction, from floods to wildfires, extreme weather to crop failures and the inevitable breakdown of society. We have a duty to act."
"In the end, we have to realise that we will all be alone on our deathbed and asking ourselves whether we lived a worthwhile life – and for this generation, the climate crisis is the overriding existential challenge. There are no guarantees but doing nothing, not trying, is not an option."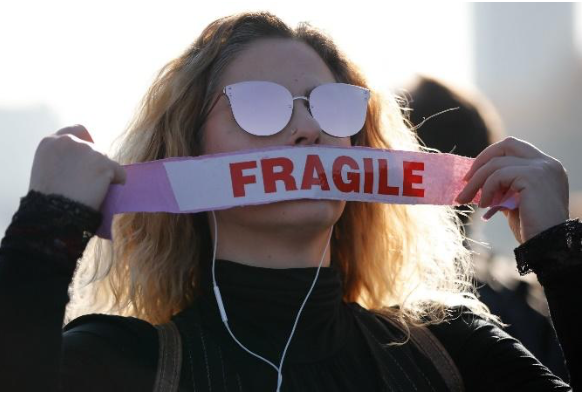 The Rebellion Day protests come at a time of renewed global anxiety over the pace and impact of climate change. A recent United Nations report written by 91 leading climate scientists warns that the world only has about a dozen years left to prevent a global ecological disaster.
Dozens of major countries are pursuing environmental policies that would lead to temperature rises exceeding 5C by the end of the century, according to a new study by Australian and European researchers.
Last month a landmark UN report warned that greenhouse gas emissions must be cut almost in half by 2030 to avert global environmental catastrophe.
The panel of scientists found that worst effects of global warming will only be prevented if the global temperature increase stays below 1.5C.
Writer George Monbiot joined the protest at Blackfriars Bridge. "Something I have been waiting for, for a very long time is happening," he said.
"People are risking their liberty in defence of the living world in very large numbers. It is only when we are prepared to take such action that people begin to recognise the seriousness of our existential crisis."
News Author: Laura Harvey
Editorial Team: Abbie Clare, Carolyn Davies, Laura Harvey, Emma Quayle, Tracy Seed and Penny Spawforth.